ABB Terra AC displejs – 22 kW, 2 tipa kabelis, RFID, MID, 4G modemiem, LAN/Wifi
Augstas kvalitātes kvalitāte
• Viens no lētākajiem lādētājiem tirgū
• Plašs savienojamības iespēju klāsts
• Vietu taupošs un viegli uzstādāms dizains
Drošība un aizsardzība
• Neatkarīga trešā puse novērtē un pārbauda, lai tā atbilstu visaugstākajiem standartiem
• Aizsardzība ar strāvas ierobežošanu novērš traucējumus un pārmērīgu strāvu uz iekārtu
• Integrētas aizsardzības, ieskaitot līdzstrāvas zemējuma bojājumus un pārspriegumu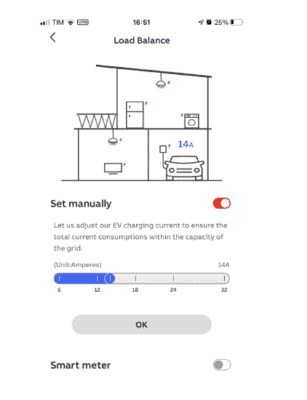 Slodzes vadība
• Iebūvēts enerģijas skaitītājs
• Manuāla vai automatizēta (dinamiska) slodzes vadība
• Iestatīšana ārējā enerģijas skaitītāja integrēšanai dinamiskai slodzes pārvaldībai
• Gatavs integrācijai ar modernu viedo ēku enerģijas sistēmu
Elastība nākotnē
• Vieda funkcionalitāte optimizētai uzlādēšanai
• Enerģijas skaitītāju integrācija dinamiskai slodzes vadībai
• Īpaša lietotne kontrolei un konfigurēšanai
• Iespējota attālā programmatūras atjaunināšana
Visu viedo funkciju prezentācija:
Maksas plānošana "Skūšanās virsotne"
• Iestatiet uzlādes laika slotus (grafiku), lai izvairītos no augstākajām elektroenerģijas cenām vakara tarifs
• Iespēja ietaupīt 100–300 eiro gadā * par elektrības rēķinu (atkarībā no vietējās elektroenerģijas cenas)
ChargeSync lietotāja lietotne Terra AC vadībai, statusam un konfigurācijai
Stacijas iestatīšana:
ABB Terra AC displejs – 22 kW – TAC-W22-G5-RD-MC-0 / 6AGC081285 funkcionalitātes:
-Type – Wallbox with socket
-Power 22kW
-Three-phase
-Max current 32A
-Type 2
– Display
-MID certified energy meter
-4G modemi, LAN &Wifi
-OCPP 1.6
-Bluetooth
-Modbus RTU (RS485)
Terra AC product Brochure:
ABB_Terra_AC_wallbox_Brochure_A4
* tīkla operatori parasti iekasē 25-40% piemaksu par patērēto elektroenerģiju vakara stundās plkst. Uz to attiecas līgums ar pakalpojumu sniedzēju. Dažās valstīs vakara / nakts tarifu nevar noteikt.
LŪDZU UZZIŅAI – modeļiem Terra AC ar piegādes laiku DIVAS NEDĒĻA