ABB Terra AC wyświetlacz – 22 kW, gniazdo typu 2, RFID, MID, Wi-Fi
Wysoka jakość
• Jedna z najtańszych ładowarek na rynku
• Szeroka gama opcji połączeń
• Konstrukcja oszczędzająca miejsce i łatwa w instalacji
Bezpieczeństwo i ochrona
• Ocenione i przetestowane przez niezależną stronę trzecią w celu spełnienia najwyższych standardów
• Zabezpieczenie ograniczające prąd zapobiega przypadkowemu wyzwoleniu i przetężeniu w instalacji
• Zintegrowane zabezpieczenia, w tym zwarcie doziemne DC i przepięcie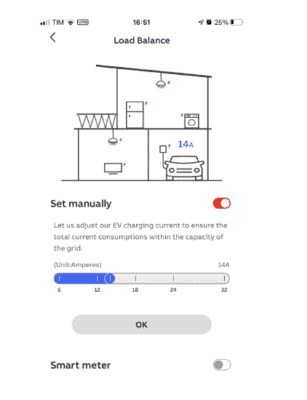 Zarządzanie obciążeniem
• Wbudowany licznik energii
• Ręczne lub automatyczne (dynamiczne) zarządzanie obciążeniem
• Konfiguracja do integracji zewnętrznych liczników energii w celu dynamicznego zarządzania obciążeniem
• Gotowy do integracji z zaawansowanym systemem energetycznym inteligentnego budynku
Elastyczność na przyszłość
• Inteligentna funkcjonalność dla zoptymalizowanego ładowania
• Integracja licznika energii w celu dynamicznego zarządzania obciążeniem
• Dedykowana aplikacja do sterowania i konfiguracji
• Zdalna aktualizacja oprogramowania włączona
Prezentacja wszystkich funkcji Smart:
Planowanie opłat "Peak shaving"
• Ustaw przedziały czasowe (harmonogram) ładowania, aby uniknąć szczytowych cen energii elektrycznej, np. taryfa wieczorna
• Możliwość zaoszczędzenia 100-300 EUR rocznie * na rachunku za prąd (zgodnie z lokalnymi cenami energii elektrycznej)
Aplikacja użytkownika ChargeSync do kontroli, statusu i konfiguracji Terra AC
Konfiguracja stacji:
Stan ładowania:
ABB Terra AC wyświetlacz 22 kW model – TAC-W22-T-RD-M-0 / 6AGC081280) funkcjonalności:
-Type – Wallbox with socket
-Power 22kW
-Three-phase
-Max current 32A
-Type 2
– Display
-MID certified energy meter
-Ethernet (RJ45)
-Wifi
-OCPP 1.6
-Bluetooth
-Modbus RTU (RS485)
Terra AC product Brochure:
ABB_Terra_AC_wallbox_Brochure_A4
* operatorzy sieci elektrycznych zwykle pobierają 25-40% premii za energię elektryczną zużywaną w godzinach wieczornych 18-22. Jest to uzależnione od umowy z dostawcą. W niektórych krajach nie ma taryfy wieczornej / nocnej.
UWAGA – dla modeli Terra AC z wyświetlaczem DWA TYGODNIE czas dostawy