ETREL G6 – Public charging station 2 x 22 kW (3 x 63 A), Type2 socket, 4G:
EASY TO NAVIGATE DISPLAY BUILDS CONFIDENCE AT A GLANCE
The user interface with support for multiple languages, is easy to use and provides all the necessary information for first-time and advanced users alike.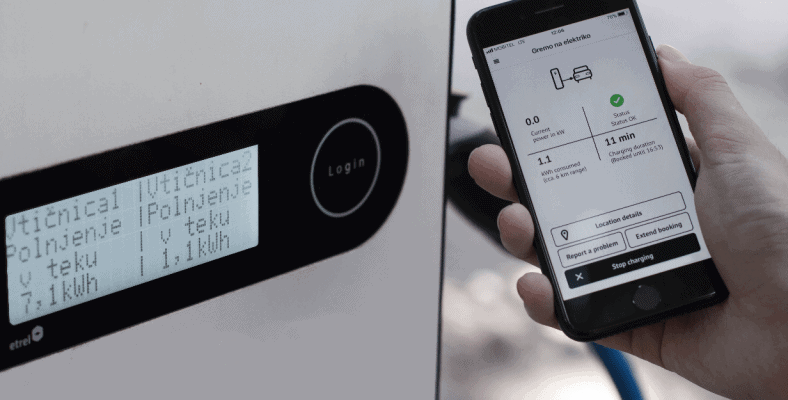 DIFFERENT AUTORISATION MODES ENABLES DIFFERENT SUBSCRIPTION MODELS
ETREL G6 users can select from several identification modes: PIN, RFID card, app or SMS.
DESIGNED FOR SCALABILITY –  BIG ON ROBUSTNESS, SMALL ON FOOTPRINT
Compact design facilitates installation in locations with limited available space. Distinct design with a steep slope at the top makes sure the stations are easily recognisable and they stay clean. It is made of robust stainless steel for outstanding durability in all weather conditions.
CUSTOMISATION HELPS YOUR CHARGING NETWORK TO STAND OUT
White charger door, crafted from a single piece of stainless steel gives you a large surface for branding, to make sure your charging network stands out. With its distinct shape, the G6 charging station is easily spotted while remaining unobtrusive in public locations.
Product Brochure: