Teltonika Teltocharge 11KW a premium-quality, highly customisable and easy-to-use EV charging solution
EASY INSTALLATION
Quick and easy installation without any extra steps, hassle-free cable management system and effortless EV charging experience. We made it as simple as using a smartphone.
SMART MANAGEMENT
Monitor the status of your charger, schedule charging when the power is cheapest, view your statistics in real time, lock your charger to protect it from unwanted users and more in TeltoCharge App.
SOLAR SURPLUS ENERGY CHRGING
To ensure proper solar integration functionality, it is essential to begin with the correct physical installation. This involves having a smart energy meter installed in the electric circuit that possesses the necessary communication functionality and is included in our energy meter list. The meter plays a crucial role in detecting negative current flow, indicating when energy consumption is lower than solar generation, and feeding it back into the electrical grid. For effective communication, the charger must be interconnected with the meter.

When the meter detects surplus energy, it relays this information to the charger. Based on the charger's internal configurations, it will determine whether to initiate the charging process or not. It is important to note that this process depends on the specific configurations set within the charger.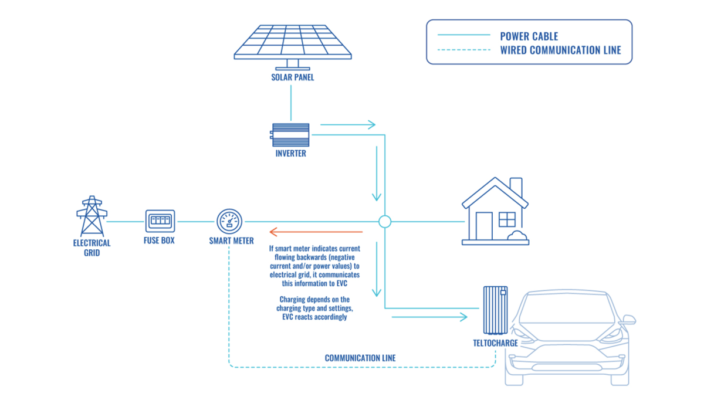 LED INDICATORS
Dynamic LED lights showing charging status, authentication and more.
DYNAMIC LOAD BALANCING
Charger supports Static load balancing & Dynamic load balancing, Phase balancing via modbus connection to smart meters.
SECURE
Quick and easy EV charging authorization with NFC card or application, to prevent unwanted usen.
BUILT-IN ENERGY METER
TeltoCharge has a built-in meter for statistical data tracking.
RELIABLE BUILT
TeltoCharge features robust external shell and reliable build quality, which can withstand even the harshest weather. It is IP55 and IK10 rated, meaning that it can be safely installed both indoors and outdoors.
Teltonika Teltocharge Data Sheet