Autel Maxicharger 22kW  tethered  station is a SMART AC Wallbox charger designed by Autel. The MaxiCharger charger is an extremely useful charging unit that can be used both at home and in public areas. Its modular design simplifies the installation and maintenance. Anybody can operate Maxi Charger with a simple and convenient mobile application.
Autel MaxiCharger 22kW tethered AC Wallbox is highly SMART & compatible with all EVs and can deliver 22  kW power range (3phases, 32A)
Product Features:
Easy to Install, Easy to Maintain
Triple Protection Technology for safe charging
Charging power 22 kW
Dynamic Load Balancing possible with Eastron SDM630 Series SmartMeter
IP65 Protection
Charging mode: Mode 3, Type 2
Dimensions (H×W×D) are 336×187×85mm.
Convenient APP (free download)
Operating temperature of the device is between -40℃~+55℃.
Remote software update and troubleshooting
Weather resistant, perfect for outdoor use
World First Triple Protection Technology
Charger+Cloud BMS+VCI triple protection and real-time big data analysis
Safe charging mode to prevent overcharging and maintained battery stability.
It has a weight of 3600 grams.
Use Atul APP to track, manage, and optimize EV charging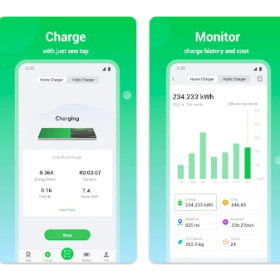 Fast and convenient charging via the

Auto start

feature

Schedule charging sessions during off times to reduce electricity costs.

Track your EV battery health while charging.
You may download brochure for Autel Maxicharger 11kW as well.